The Open de Golf 2023 by ezyperf was held on Tuesday July 04 for the 6th edition and the company's 10th anniversary.
Open de Golf 2023: a day of golf
A beautiful day of golf, rich in exchanges and sharing in a green setting at L'Isle-Adam golf course ⛳
This event brought together some great competitors to battle it out on the green, but also gave others the opportunity to discover and learn about golf 🏌️‍♂️
We would like to thank all the participants for their presence and enthusiasm, which helped to make this day a real success!
A big thank you also to the entire Isle-Adam golf team for their warm welcome, to golf professionals Emmanuel and Elena, and to our partners and their animators, for their involvement throughout the day, for sharing their know-how and expertise with us, and whose generosity enabled us to offer some superb prizes: Bucherer, Absolument Vin, Tête Défense, HZPC, EDHEC Alumni Club Finance, Association FiPlus, CIC L'Isle-Adam branch, Le Domaine des Vanneaux, Fairways magazine, Févier d'Or, Chocolaterie Delaveaux and Les Prodigieux.
The day also provided an opportunity for charity work. For the past 10 years, ezyperf has been committed to supporting a number of associations and schools. For the 6th edition of our Open de Golf ⛳, we chose to collect donations for the association GLOBAL HEART WATCH
Created in 2013 by founder Gilbert BLAISE, whose story can concern us all, aims to combat sudden adult death by cardiac arrest. Their aim is to raise public awareness of lifesaving gestures and support scientific research in the field of heart health.
Since its creation, GHW has raised awareness among more than 86,000 people, through actions carried out in schools, railway stations, companies, marathons, universities, etc. At the same time, the association funds scientific research to extend our knowledge of cardiac risk and risk factors.
We would like to warmly thank all the generous donations from participants, as well as our partner, the CIC branch in L'Isle-Adam. Valérie PRODHON AUBOYNEAU for its support. Thanks to all of you, we were able to raise €2,500 in donations 🙏🏻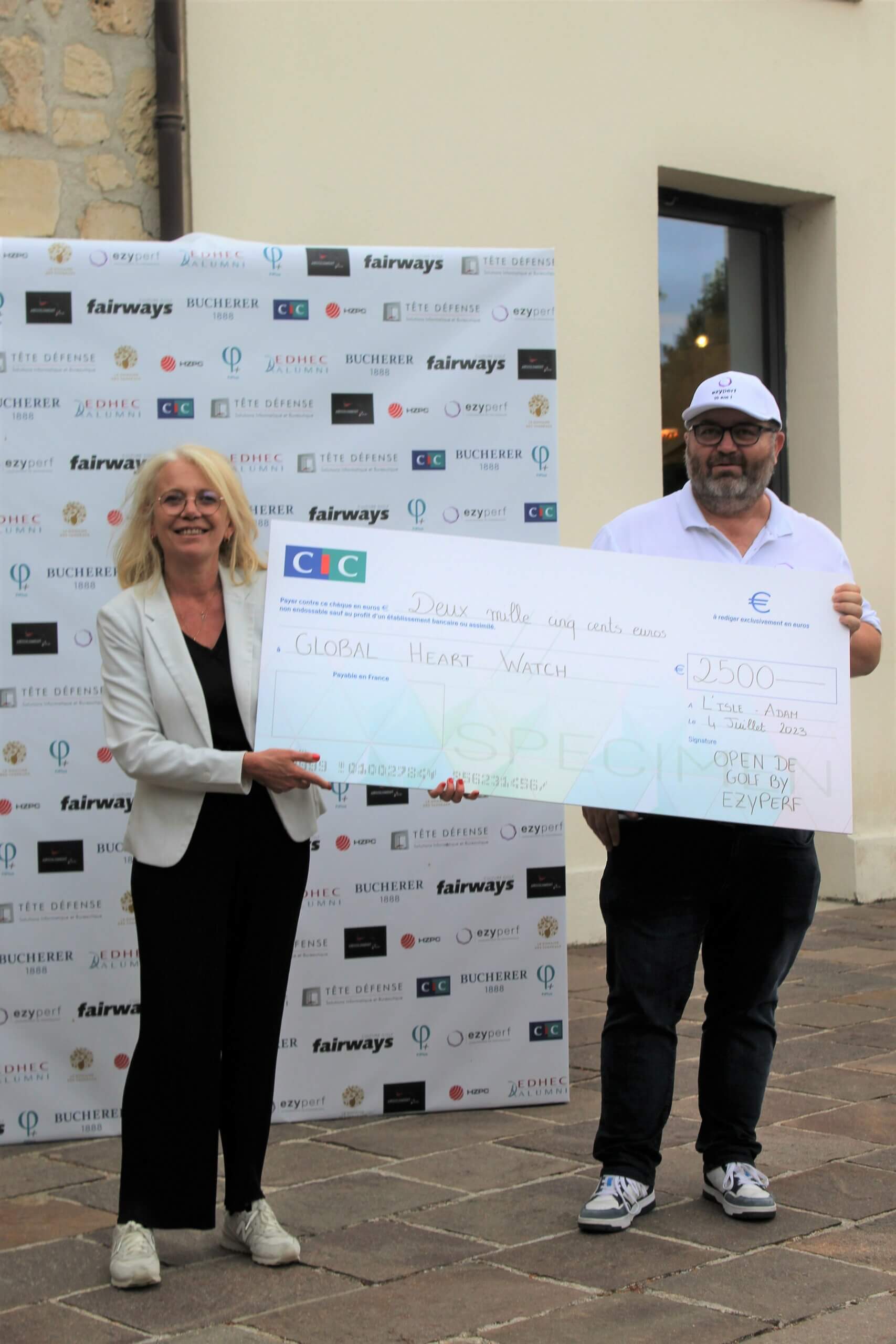 See all the photos of the event 👇 
Have a question? Contact us